Multimodal transport, what is it and what does it consist of?
Multimodal transport is when different modes of transport are used in the logistic processes of a company. With multimodal transport, it is possible to ship and transport materials and goods faster and more efficiently. In a few words, multimodal transport is understood as the transfer of goods from their origin to their destination using more than one means of transport (land, sea, river, air). Multimodal transport exists at the national and international levels with different transport contracts depending on each case.
Efficient multimodal transport allows the transfer from one means of transport to another without the need to handle the goods they contain, so that there can be no rupture of the load unit, which means that the goods cannot be separated. The creation of large port terminals connected by road, rail and inland waterway to the centers of production and consumption has driven an incredibly fast development of multimodal transport in recent years. 
The organization of an international transport to cover the journey from a point of departure to a point of destination requires two or more different means of transport, that these means operate in several different countries and that several international transport contracts are issued according to each means used.
Therefore, multimodal transport consists of a service that is contracted through a logistics operator, an agency or a freight forwarder, which is responsible for transporting the goods from the point of departure to the final destination. And in this journey, different means of transport are used, i.e. more than one vehicle. 
But this is usually outside the customer's control, and it's the operator who is responsible for managing the service. Although different means of transport are used during the journey, to be considered as multimodal transport it must meet the following requirements:
The goods or cargo must be compact as it was delivered at origin, it'sn't possible to separate it into smaller elements, imagine a full truck in this case could not be carried out in 2 trucks, there can be no breakage of the load. Because of multimodal transport, it's possible to transport goods in bulk, as well as to carry out domestic multimodal transport operations. 
Essentially, the concept of multimodality will be subdivided into intermodal transport, in which only one load measure is used, and combined transport, in which the goods are transported in different means but within the same transport chain.
Characteristics of multimodal transport
Only one contract is required
It's the only means that allows the use of a single contract, all others require more than one.
National and international scope
Multimodal transport has both a national and international scope, since it allows the use of several means of transport, which means that it can reach almost all parts of the world. This is a factor that causes a great use of this modality by important companies.
There is no distance limit
The distance can be both long and short, since there is no clause that establishes a limitation for the distance to be covered by multimodal transport.
Different means of transport
The main feature of multimodal transport is the possibility of combining different means of transport, i.e., for example, we can use a railroad, a ship and a truck for the same transport. In other words, the customer will be able to decide whether to use only one type of means of transport or to combine it with others.
Tracking of the goods
Another of the fundamental characteristics of this type of transport is that the goods can be tracked through digital systems and satellites, so it's a very useful aspect when transporting high-value goods.
Multimodal transport and its main advantages:
Costs and travel times are reduced throughout the operation.
The user assumes less risk of loss or theft of the goods, since he only has one interlocutor.
The FBL has preference of entry and passage at customs. The overall scheduling of the route and the economic, human and logistical costs are simpler.
However, multimodal transport might also have a number of disadvantages:
There are legal and operational constraints in application of international standards.
Security is still high, so terminal inspections continue to limit operations.
There is no comprehensive structure for multimodal transport, which means that there's no infrastructure to facilitate multimodal operations.
The structure of demand is deficient; the lack of flow compensation affects the entry of containers into the interior.
There may be both operational and legal limitations when applying international regulations.
There are usually inspections at terminals for security reasons.
It's a transport with procedures that are not very simple due to the lack of investment in infrastructures that make it possible.
Therefore, multimodal transport is very advantageous when transporting goods internationally, thanks to the advantage of having a single logistics agent.
To this we add the cost reduction of signing a single agreement. The speed of delivery and the lower cost of delivery means that the multimodal transport customer is able to offer his goods at a better price.
Multimodal transport and its types of combinations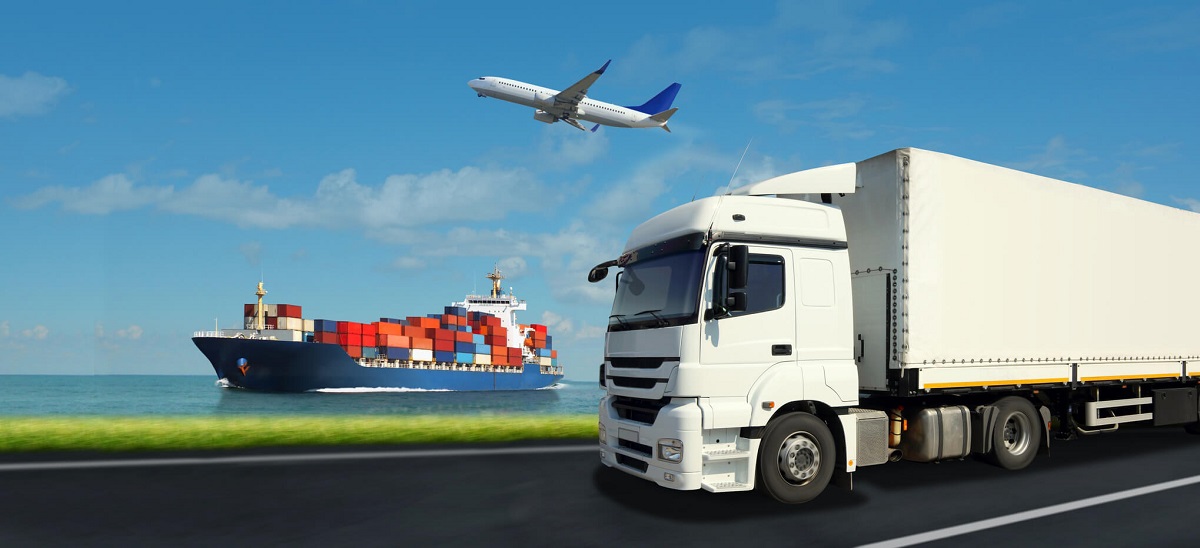 Any multimodal transport uses at least two combinations of the following types of transport. Depending on the distance or the route, the transport provider or the client himself, depending on his knowledge, will choose the best option to reduce costs and delivery time.
Ground transportation:
It's the most demanded transport and the most used. It is based on point-to-point transportation with land vehicles ranging from small delivery vans to mega trucks and trailers. Land transport is further divided into pallet, groupage and full truckload shipments.
Sea transport:
It's the most suitable when it comes to long distances, perfect for shipments between continents. It is undoubtedly the most common means of transport on international routes. It can be carried out using different types of vessels.
Air transport:
Undoubtedly the fastest option but also the most expensive. Its main advantage is its availability and fast transit in deliveries. You can send any goods to any part of the world in a single day.
Rail transport:
In the last years it has suffered an increase in its demand due to the fact that it reduces the price of transport and speeds up considerably the delivery times when it comes to very long distance shipments.
https://bffinternational.net/wp-content/uploads/2022/11/WhatsApp-Image-2022-11-04-at-3.16.37-PM.jpeg
646
1080
Celeste Diaz
https://bffinternational.net/wp-content/uploads/2020/04/BFF-International-Logo-1030x1030-1-300x300.png
Celeste Diaz
2022-11-04 15:04:41
2022-11-08 15:39:48
Multimodal transport, what is it and what does it consist of?